Welcome to the Bitstrips Users wiki, where you can write about yourself, or your Bitstrips friend(s). Meant as a semi-formal post-mortem of sorts, feel free to write about yourself however you feel.
Rules
I recommend to not take this too seriously. Pages don't need to be paragraphs long, just make them however you feel, and others can edit. But at least make the pages in an elementary level of English (correct spelling, grammar, punctuation, full sentences, so on).
No biased articles, whether it's you or not. We don't want to make the little ones cry
You can make a page on anyone, granted you feel like you can fill it out. Even a troll.
Joke pages are not allowed until I think of a way to make them without ruining the actual pages people tried on.
No pages on characters or series. Any information on these goes on the user who created them's page.
No swearing, only because it's pointless, unless it's a quote. That said, you don't need to censor it, either. 
No vandalism, I'll just block you without making a fuss about it, because this doesn't need drama.
In the information template, you MUST use the photo of your Bitstrips avatar from your profile.
All in-article images must be Bitstrips comics or characters. No unrelated photos or GIFs.
Boommike's page must be the best because he's the true savior of Bitstrips
Honestly I'm bored so I made this I may regret this later
NOTE: I recommend making an account for this, as I'm pretty sure you can't upload images otherwise. I may make this mandatory, but I doubt it.
Editing and Using a Template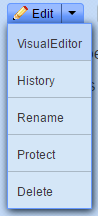 Due to the weird new Wikia update, the template (called Userinfo) can't be edited in the regular editor.
Go into visual editor (click the down arrow button by the edit page option).
Once in the editor, click on the template.
A puzzle piece icon will show up; just click that and the edit window will pop up. 
Photos just need their name and file type (Buddy.png for example). Due to Bitstrips's formating, the image should be a png.
News
May 28, 2018
Badges have been customized! I'm not expecting people to plow through them, but mostly to give the wiki more of a Bitstrips theme. Keep editing and having fun.